By Eve Hesketh
February 25, 2021
150 views
corporate, employees, news, Promotions, Staff, team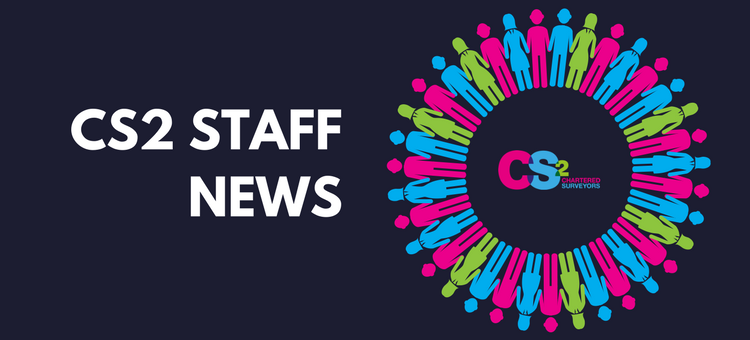 As we are now well into 2021, we wanted to take this opportunity to celebrate the wide range of achievements and promotions that have taken place within CS2 Chartered Surveyors, across our 7 national offices.
London:
We were thrilled to announce the promotion of Mithun Karsandas to Office Head of CS2 London. Mithun joined CS2 in our Northampton office in July 2004, relocating to CS2 London in its infancy and having played an integral part in the office for the past 15+ years. As a business and relationship generator, Mithun will lead our CS2 London team cognate of London real estate market post COVID.
Milton Keynes:
Following a short sabbatical, CS2 are extremely pleased to be welcoming Eleni Neophitou back to the Milton Keynes Team. As a Graduate QS originally joining CS2 as a school leaver, Eleni is very much an integral member of the MK QS/projects team, and we are thrilled to have her back.
Also in Milton Keynes, we celebrate Adam Bardell who has been appointed as Director of the CS2 Academy – Training, Development and Recruitment Programme. In this role, Adam oversees the continued development of CS2's Transformation Programmes from graduate through to director, as well as managing the continued success of our APC Programme, which boasts a 100% pass rate of candidates enrolled.
Manchester:
In the North-West we are delighted to announce the promotion of Paul Crowe to Office Head of CS2 Manchester. Since joining in 2018, Paul has witnessed and been part of the significant change in our Manchester office. Over a period of instability Paul has remained steadfast, totally committed and focused on making sure the best outcome for both colleagues and clients. He has brought not only a sense of purpose and identity for the CS2 Manchester office but also maintains stability with the strong and growing team.
Additionally in Manchester we are also pleased to announce the promotion of Will Harrison to Director and head of building surveying for the Manchester Office. During his many years at CS2, Will has been a trusted and safe pair of hands within the Manchester office, and has been instrumental in the development and growth of the team's building surveying offering.
Northampton:
In our Head Office, we are thrilled to celebrate the promotion of Mark Edwards to Office Head of CS2 Northampton. Mark joined CS2 in 2005, and with periods in both London and Birmingham, Mark now leads our Northampton team. Mark's leadership qualities shone through in his support and guidance to the team during the Covid-19 pandemic, and his ability to engage has rendered him "trusted advisor" status to some of the country's largest clients; a testament to his professionalism and the respect and regard that his clients hold in him.
Additionally, our Northampton Office has also welcomed a new team member, Alan Paterson. Alan is a Chartered Quantity Surveyor with over 30 years experience. He joined the team earlier this year and we are thrilled to have him on-board.
Finally in Northampton, we would like to officially welcome Rhys Williams who has now joined the team as a full-time Director, having been contracted to CS2 for the past 3 years while being self-employed. Rhys has been a big part of the development of CS2's QS division and we are pleased to now welcome him as an official member of the team.
Bristol
In the South West, we would firstly like to celebrate the promotion of John Gardner to Associate Director and Office Head of CS2 Bristol. John joined CS2 at our Northampton office in August 2013, John relocated to our CS2 Bristol office and has since been a big part of the journey and growth of the region. John has a great vision for CS2 Bristol and is perfectly placed to guide the team in it's development moving forward.
The Bristol team have also been welcoming some new faces over the past few months which include Building Surveyor Toby Webb, Associate Director Rob Lay. and Senior Quantity Surveyor David Pickup.