By Eve Hesketh
May 11, 2021
825 views
asset, changing market, investor, landlord, market, Office, Trusted Advisor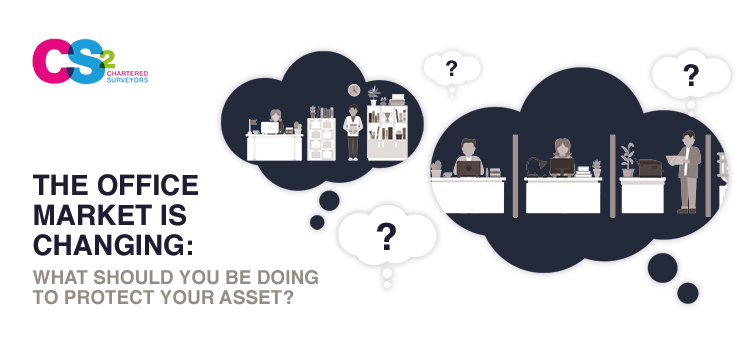 Asset Managers: May you live in interesting times!
Jonny Grove discussed the challenges facing managers of secondary assets in a changing office market.
The modern office
Much has been discussed recently in terms of the future of workspaces, with a particular focus on the return to the office and what this means both regionally and nationally.
There have been various reports of increased regional activity as businesses look for more satellite collaboration space as an alternative offer to the traditional commute, and there are sure to be localised winners with the growing desire for an increased work-life balance. Cities however are not dead and will remain a desirable and vibrant location for young career minded professionals looking to develop their careers as well as their social and cultural lives.
At CS2 we believe that there is no 'one size fits all' solution in terms of the changing markets across the UK as businesses evaluate the resources and workspaces required in order to optimise the productivity, welfare and development of their staff.
The growing value gap
As a practice offering strategic dilapidations advice to a broad range of both Landlords and Tenants, we are aware of the shortening of average tenancy term. The days of the 25-year lease seem to be behind us as businesses require the agility to respond to fast ever changing markets. 
One common theme amongst the changing regional markets, is the drive for better quality accommodation. The value gap between 'Grade A' 'Secondary' and 'Tertiary' assets continues to widen in terms of rental levels. This value gap is driven by staff's expectations in terms of quality accommodation, as well as a requirement for flexible space able to accommodate modern flexible methods of working.
ESG Criteria
It isn't just the 'Instagram' generation of tenants who are driving quality either! Investors are increasingly being guided by ESG criteria in ensuring they make a positive impact with their money.
'Environmental Social Governance' principles are being recognised by investors in illustrating higher standards of corporate governance, which in turn translate to improved resilience in adverse economic conditions.
How then, does a landlord deal with a 'stranded asset?' Faced with the changing demands of the post covid world, is it possible to close the value gap?
At CS2 we are working with a broad range of Landlords in appraisal of their existing stock and assist them through the feasibility and delivery of modernisation to keep pace with a competitive market.
The shorter tenancy model will ultimately mean a better-quality Cat A (Landlord) provision, and a greater emphasis will be on traditional CAT B considerations such as connectivity and wellbeing moving into the successful Asset Managers consideration when refurbishing and updating buildings for a return to the market.
Market Driver or Market Driven?
Working in hand with our design team and cost consultants, landlords and their asset management teams are able to obtain a quick and concise appraisal across a 'shopping list' of options for their assets, supplemented by proposals from our Mechanical and Electrical design engineers and supplemented by the holistic overview of our Energy and Sustainability expert James Cutter.
Along with our in-house team of experts, we can also advise on additional external appraisals and certification of your built assets in order to ensure you are ahead of the game.
WELL AP
The 'WELL Building Standard' is the world's first building certification presenting a performance-based system that focuses primarily on human health and wellness in relation to the built environment.
WIREDSCORE
The industry is increasingly recognising WiredScore as a symbol for overall connectivity with grades of Certified, Silver, Gold and Platinum accreditation available.
BREEAM In-use
BREEAM In-use is a tool from the British Research Establishment designed to offer simple, robust and cost-effective path to measurement and certification of building's green performance.
SKArating
The RICS's own environmental assessment method allows clear benchmarking of the sustainability criteria of nondomestic refurbishments and fit outs.
Some of CS2's Project Case Studies:
SPEAK TO CS2
If you are considering the appraisal of  your asset, speak to one of our experts to discuss the range of tools available to ensure you move forward with the qualified information necessary to make a success of your investment… in interesting times. Please get in touch with Jonathon Grove at jgrove@cs2.co.uk for more information.