By Eve Hesketh
July 2, 2021
201 views
Dilapidations, landlord, scotland, Tenant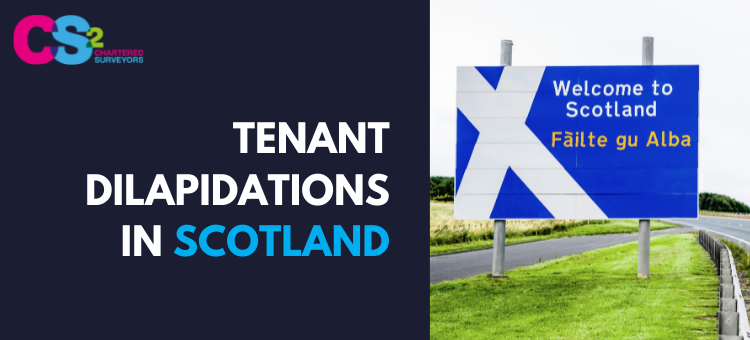 CS2's Dilapidations Expert Simon Hottinger recently delivered a presentation on Dilapidations in Scotland. We have pulled together some key insights on this topic, to aid your understanding in this area.
We know that Scotland has a different legal system, this means that there is different legislation and case law applicable to dilapidations claims. This manifests as:
Different Legal Language and terminology.
Scotland has its own RICS Guidance note. DILAPIDATIONS IN SCOTLAND, 2ND EDITION.
Dilapidations pre-action protocol does not apply.

No requirement for quantified demands, surveyor endorsements.
Common Law Repair
Common law:
Landlord warrants that the Leased Premises are reasonably fit for purpose at the outset of the lease.
For the duration of the Lease the Landlord has a continuing duty to keep the Premises in a wind, watertight and tenantable condition (subject to being notified of disrepair).
Liability for repair passed to tenant through express lease obligations:
The tenant accepts the premises as being in good and substantial condition and repair and in tenantable condition and in all respects fit for the purpose for which they are let.
The tenant is obliged to keep the premises in good and substantial repair and in tenantable condition at all times during the currency of the lease.
…irrespective of the cause of the damage necessitating such repair…
Alternative measure of loss
Statute:
Section 18 Landlord and Tenant Act 1927 – not applicable.
No equivalent statutory provision in place.
Alternative measure of loss:
True measure of loss may not be cost of works
Alternative measure of loss may be applicable –Diminution in Value
Referred to in the RICS Guidance Note: Dilapidations in Scotland (2nd edition)
Payment Clause
An express Lease Clause obligating the Tenant to PAY the landlord cost of the dilapidations claim. Irrespective of whether the works have been (or will be) undertaken.
Wording of clause essential.
Alternative measure of loss not necessarily applicable.
Tenant can still defend claim on basis of Lease obligations, quantum and value of works etc.
Loss of rent clause:
In addition to the Dilapidations claim for the cost of works, Landlord's may also claim for the Loss of rent relating to the duration it takes to complete the dilapidations works.
WITHOUT LOSS OF RENT CLAUSE
Higher burden of proof on Landlord to demonstrate loss.
WITH LOSS OF RENT CLAUSE
Makes a Loss of Rent claim a contractual payment under the Lease.
Usually requires the Landlord to undertake the works.
Repairs Notice
Claims during the lease term are very similar to those in England, though can be more readily enforceable in Scotland.
If you receive a repairs notice:
Do not ignore the Repairs Notice.
Act and appoint surveyors and solicitors to develop a strategy and defend the claim.
If you do not act the following options are available to landlord:
Enter premises, undertake the works and reclaim as a debt – subject to lease clauses and notice periods.
Apply to the courts for
Court order for value of works (would be required to subsequently undertake the works).
Court order for tenant to undertake the works.
In summary, Dilapidations in Scotland is similar but not the same as in England. There are a few discrepancies that are important to be aware of. If in doubt, it is always best to speak to an expert. For more information, please contact Simon Hottinger in our Edinburgh Office here.