By Eve Hesketh
June 3, 2021
314 views
clients, cpd, Dilapidations, Event, pma, property managers association, webinar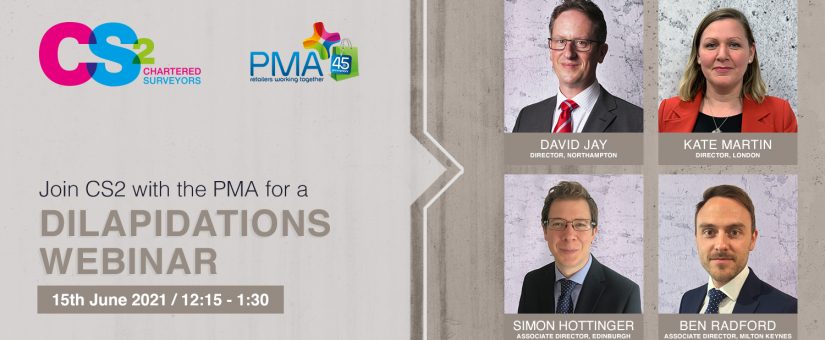 A panel of some of CS2's most experienced dilapidations experts are presenting a free webinar in conjunction with the PMA on Tuesday 15 June at 12 pm. 
CS2 have a proven track record of securing unbeatable outcomes for our clients. Our highly skilled and experienced dilapidations team are committed to achieving the best outcome and savings for our clients. The occupation and vacation of commercial property can be a costly business for the ill-advised, but CS2 will provide you with honest, commercially aware, tailored, technical advice.
David Jay is an Equity Director of CS2 and has over 30 years' experience within the commercial property industry. David's experience majors in the provision of strategic dilapidations advice to a variety of clients across a full range of sectors and building types. Claims range from a few tens of thousands of pounds to £6.3 million. David's esteemed client portfolio boasts Sainsburys, Next, TK Maxx and Dixons Carphone.
Ben, and Associate Director in our Milton Keynes office, is an outstanding surveyor and has worked for CS2 for over 10 years. Specialising in dilapidations matters for both landlord and tenants, Ben is passionate about the results he attains and takes pride in achieving the best settlement possible for the client.
Kate works out of the CS2 London office and is key to heading up the Dilapidations Team in the City. Kate defines career satisfaction by working hard to ensure substantial savings for her long-term client base, to ensure she is their trusted advisor.
Simon heads up CS2 Scotland, working from our Edinburgh office.  In addition to Simon's experience including the provision of Project Management, Lead Consultant, and Contract Administration of Refurbishment (Cat A & B) / New Build Projects, Simon has over 10 years representing Landlord and Tenants in intricate Dilapidations claims.
Please click here for more information about this event.