By Eve Hesketh
February 15, 2019
995 views
building surveying, CS2, expanding, London, Manchester, Milton Keynes, new staff, quantity surveying, recruitment, team, update, vacancies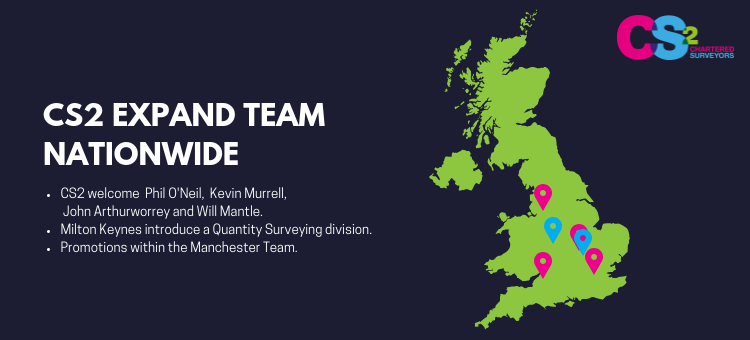 Since the start of the new year, the CS2 Offices have been busy expanding their teams and welcoming new employees, nationwide. In all levels of property professionals, the CS2 team is changing and we're putting the spotlight on those involved.
Over the past few months, big changes have been taking place within the CS2 Manchester Office. With the promotion of Team Head's, Paul Crowe  and Neil Kelly, we now have fully established teams of Quantity and Building Surveyors. Director, Paul Crowe is thrilled to be heading up the Quantity Surveying and Project Management teams within the office, who are currently working on a variety of exciting projects in and around Manchester.
Alongside this, Neil Kelly has also been promoted to Director and now manages the established and diverse team of Building Surveyors. Amongst his team is Will Harrison, who has recently been promoted to Associate Director. Will is currently being kept busy by an array of projects to be announced soon.
Finally, our Manchester office has been pleased to welcome Phil O'Brien; who joins the team as an Associate Director specialising in commercial project work, technical due diligence and other building surveying services for a variety of private sector clients.
Further north, our Milton Keynes-based Building Surveying team is now supplemented by the office's newly established, in-house Quantity Surveying department. Associate Director, James Peel is heading up the cost consultancy division in Milton Keynes and has over 35 years' experience within the industry. His local knowledge and network of contacts within the region has allowed him to be involved in a broad spectrum of projects across many sectors including high end residential, education, commercial, industrial and retail.
Finally, CS2 London have added to their team of property experts, through the recruitment of Director Kevin Murrell, Associate Director John Arthurworrey and Assistant Building Surveyor Will Mantle.
CS2 are thrilled to welcome all of the new additions to our team and look forward to celebrating our 20th birthday later on this year with a fully established, nationwide team of 90+ property professionals. If you are interested in becoming our next recruit, visit our Vacancies Page.