By Eve Hesketh
September 23, 2020
249 views
Building, energy, Enviroment, green, Sustainability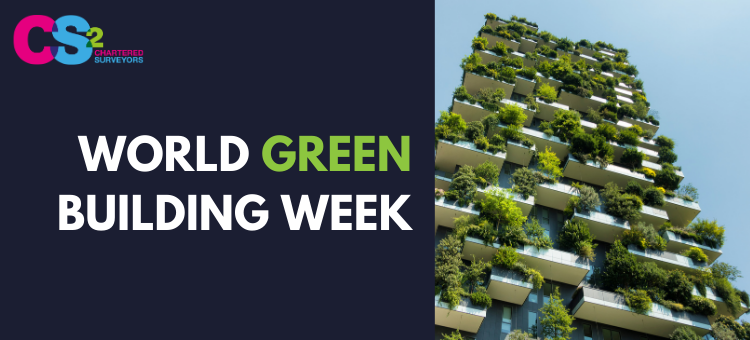 World Green Building Week (21 – 25 September 2020) is World Green Building Council's annual campaign that empowers us all to deliver greener buildings.
Over the past few years, the importance of a green property portfolio has risen significantly, with businesses recognising the appeal both environmentally and economically. This year, CS2 are celebrating World Green Building Week by looking at the importance of the issue and some of the success stories clients have achieved with our help.
In 2018, CS2 acted on the ever-increasing demand for green buildings by introducing our Energy and Sustainability department. In these two years, the team has helped various clients from all corners of the industry to achieve higher levels of sustainability enabling them to save money as well as the planet.
One of our favourite projects showcasing this benefit was the refurbishment of Atlas House. Our client required a full refurbishment of their multi-storey office building and also required a review of their energy and sustainability practices, with their current EPC rating as E. The project ultimately reduced energy consumption by up to 50%. Leaving the building with a final EPC Rating B.
As well as this, we help clients by guiding them through ever changing legislation on the issue. A notable example of this was our partnership with Warwick University where CS2 ensure EPC & MEES compliance across portfolio of 150 student houses.
James Cutter, CS2's Energy and Sustainability Consultant said: "Over the past few years the importance of ESG (Environmental Social Governance) has become increasingly key as a growing number of investors utilise ESG to measure the sustainability of a potential investment or construction project.  At CS2 we provide measured advice on ESG and the optimum methods of quantifying and communicating the correct message to investors."
"Our sustainability department is focusing on the issues that surround the capability of an organisation to become Net Zero Carbon (NZC). We utilise Science Based Targets (SBT) to allow a measured and quantifiable methodology to achieve NZC. This allows us to shed light on the process, clear up confusion and generate an achievable plan. With more and more public and private sector organisations pledging to become Net Zero Carbon, visibility and accuracy is increasingly key to delivering NZC goals."
To get in touch with our Energy and Sustainability Team, and find out how you can improve the sustainability of your portfolio whilst saving costs, contact us on 0333 2000 838 or email cs2@cs2.co.uk.