By Eve Hesketh
June 14, 2021
161 views
asset, changing market, Office, office market, wellbeing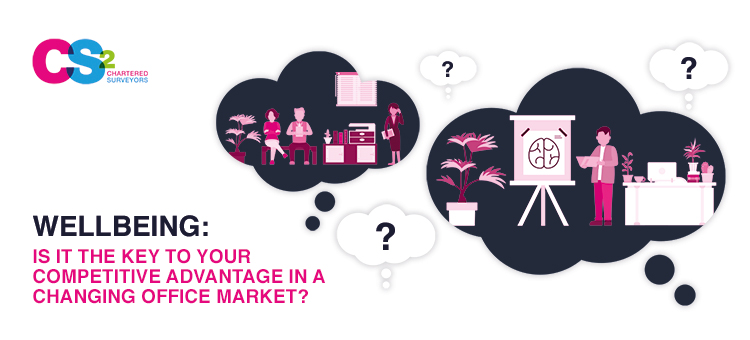 Workplace health and wellbeing is creeping up the corporate agenda, and more and more businesses now recognise the benefits of taking care of their most important asset – staff. It is no longer a trend and is becoming integral to business strategies for many companies. For landlords and investors, utilising this change in demand can further increase the desirability of your asset, in the changing office market.
What do you need to do to enhance wellbeing at your workplace?
Making sure there is sufficient climate control is essential to any workplace. You need to ensure your staff are comfortable. Being hot and bothered makes you tired and less energetic.
Up-to-date technology is essential. Good wifi is just the start, make sure working is as effortless as possible for your staff, by ensuring they have the most effective tools to perform their trade. By offering multiple digital platforms, you are offering your staff choice and flexibility.
Having the perfect furniture for various scenarios. This is not about having a comfy chair; you need to consider how to boost productivity and give your workforce areas to suit. Ergonomic furniture, agile areas, flexible spaces, break-out areas, sit/stand workstations can all be incorporated into your working spaces. Standing meetings are fast becoming the preferred way to collaborate, and designers are being asked to install more high-level benches and tables. Standing up has a positive effect on blood pressure, stress, and cholesterol.
In an ideal world, workplaces would provide areas for physical wellbeing such as gyms, outdoor areas, shower facilities, bike storage, games area, provision of exercise equipment such as cycles and scooters.
Bringing the outdoors in has proven to be extremely beneficial. Plants in the workplace have been demonstrated to relieve stress, clean the air, boost creativity, and reduce noise levels. You can even look into incorporating living walls and natural finishes in the office, to soften harsh boundaries.
From improving the engagement and productivity of employees when they're at work, to reducing the number of days and money lost to absence, a happy workplace will give you a return on investment of your staff.
If you would like more advice on how CS2 can assist in ensuring you are getting the most out of your workspace assets, contact us here.