By Eve Hesketh
April 22, 2021
467 views
asset, changing market, investment, planning, Use Classes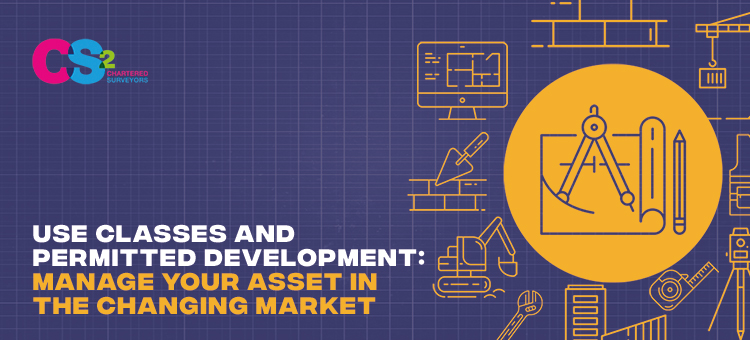 In this article, CS2 Director Jonny Grove outlines recent changes to the 'Use Classes Order', what that means to you and your business and how CS2 can assist you in identifying the best route for your investment.
What are the changes to the 'Use Classes Order'?
The Town & Country Planning (use classes) (amendment) (England) Regulations 2020 (2020 No.757) came into force on 31st August 2020 and saw the largest overhaul of the order since its introduction in 1987.
This included the introduction of a new 'Class E' (Commercial Business & Service. This new class of use includes elements of the following historic classes:
A1 Retail
A2 Financial & Professional
A3 Restaurant
B1 Offices
D1 (Part) Crèches, day nurseries
D2 (Part) Medical health facilities
Protection of town centre retail has appeared to be an outdated policy for some time, and not in line with demand. Lending on retail properties in particular has been limited for some time as Banks recognise the reduced demand for this stock reflected in the declining value of retail portfolios. The introduction of 'Class E' will allow the flexibility to change to a range of non-retail alternative uses, in turn allowing town centres to consolidate their retail offering to a more central high street. Town centre retail properties may once again become a more attractive proposition for investors with this new flexibility to meet market demand.
The change has also allowed retail use for some traditional out of town office locations. This has been previously resisted in order to protect the town centres. A landlord's willingness to effect this change will inevitably hinge on the demand and supply of office accommodation in the locality. Overall, the flexibility for Landlords to respond to rapidly changing market demands should be welcomed.
In addition to the introduction of 'Class E', further amendments include Class F.1 'Learning and Non-Residential Institutions' and Class F.2 'Local Community' both of which subsume some historic elements of classes D1 and D2.
F1 offers protection to learning institutions such as Schools, Libraries and Art Galleries whilst the drive of the introduction of F.2 is in order to allow the easy re-purposing of community resources to a diverse range of alternative community uses. Though it remains to be seen how easily a facility could be adapted between the diverse range of uses listed within the class.
Sui generis (of its own kind) has been expanded to include some traditional 'Bad Neighbour' uses such as Pubs and Hot Food Takeaways with no permitted change of use. This appears to be driven in terms of protecting these community amenities as we emerge into a post covid economy, ensuring any changes to these uses requires planning permission. This restricts a change of use for premises such as pubs, wine bars, takeaways, cinemas, concert and dance halls and bingo halls.
In combination, these changes represent the most fundamental change to in town centre planning we have seen in recent times and will present interesting challenges to the industry. Rent reviews for instance, may now involve comparable evidence from several commercial sectors. We will certainly see differing effects across geographic areas potentially including reduced vacancy rates yet possibly at the expense of reduced amenity as sectors are forced to compete for prime space with offices and restaurants.
What this means for you:
Essentially, these changes offer Landlords, Developers and Investors increased opportunities for their investments, reducing the risk of stranded assets.
We hope that the increased flexibility, and 'let the market decide' approach will drive investment within our town centres and high street locations.
How can CS2 assist you?
With an in-house team, we are able to assist with every stage of these new opportunities. CS2's nationwide team of independent building surveying and cost consultancy experts can:
Provide appraisals of options
Conduct feasibility studies
Assist with design & specification works
Management and Monitoring of projects
Post-Contract QS services
Our teams have already assisted many of our clients in both the viability and delivery of these new opportunities. Some projects include the transformation of these dilapidated offices into residential apartments and the successful conversion of this Grade II listed building into modern apartments.
If you require any further advice on your commercial property or would like to speak to one of our experts on this subject, please contact Jonathon Grove on jgrove@cs2.co.uk / 01604 603030.
Keep an eye on our News and Events page, as we will be releasing further information regarding changes to Permitted Development.