By Eve Hesketh
April 29, 2021
261 views
asset, free, investor, Use Classes, webinar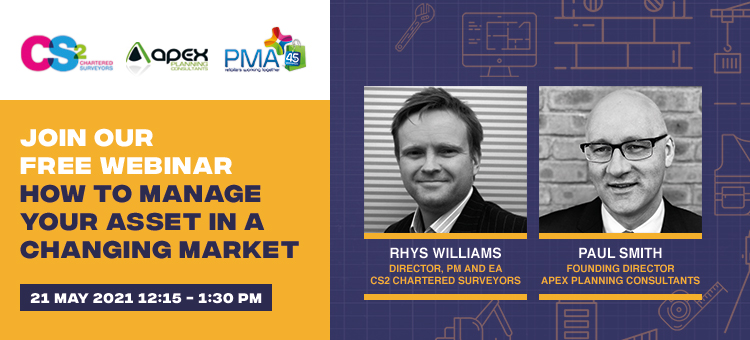 New major changes were introduced by the Government last summer to the General Permitted Development Order (GPDO), which now provides far greater flexibility to help residential areas, high streets and town centres adapt quickly to what consumers and businesses need; and to also provide protection for community-based uses.
The introduction of Class E is significant and places many uses to include retail, food, gyms, healthcare, offices, light industry into one single use. Consequently, any change of use of a building falling within the new E use class will not require planning permission.
Experts in their field Paul Smith of Apex Planning and Rhys Williams of CS2, are presenting a free webinar on the 21st May, hosted by the PMA, to discuss in detail the recent changes, how they will affect you and how CS2 will appraise your investment options and optimise your assets. 
Paul Smith
Specialist in the provision of town and country planning advice. Paul's ability is based on experience and expertise gained since 1996, from employment in the public sector and consultancies in London, Northampton and Essex. Paul has a wide clientele to include, housebuilders, commercial and industrial groups, landowners, and property investors.
Rhys Williams
Rhys is a highly experienced Chartered Surveyor who maintains a high level of technical service provision and has been responsible for delivery of some major UK and International projects.  Often, managing a team, Rhys is adept at reporting directly to Clients on project related matters including regular high-level meetings and developing relationships to secure repeat and new work. Rhys' varied experience over nearly 30 years has been centred on the commercial development sector in various forms including offices (refurbishment & new build), warehousing, retail, leisure, residential and private care homes.
If you are interested in further information, you can find our full blog on this topic here. If you or your colleagues are interested in joining this webinar, you can do so, here.