By Eve Hesketh
May 31, 2018
1,174 views
apprentice, Award, exceptional, highlight, of, professional, spotlight, Staff, surveyor, the, year, young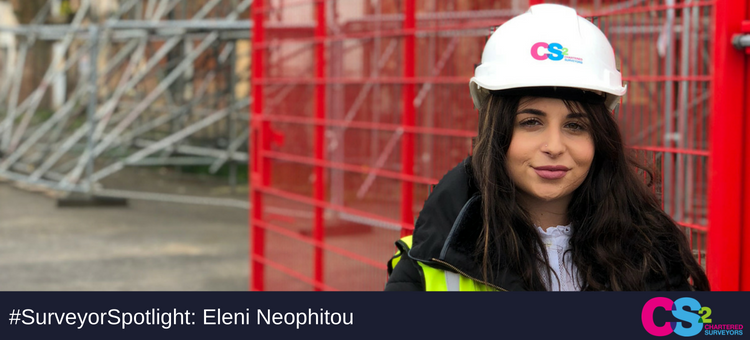 After being shortlisted for 'Apprentice of the Year' at the 2018 Northamptonshire Business Awards, what better time to celebrate the efforts and achievements of our youngest, female surveyor: Eleni Neophitou.
Eleni first joined the Quantity Surveying team at CS2 as the youngest employee within the company. Since joining the team, she has provided a young, fresh mind set in an evolving industry and her achievements have seen her promoted from Trainee to Assistant Quantity Surveyor.
After securing fantastic A-level results, Eleni came to a crossroad in her life, with the decision to go to University or jumping into a career, she knew her interest lay with Quantity Surveying. Eleni now describes joining the CS2 team as a Trainee Quantity Surveyor as "one of the best choices in my life". Having chosen the more unconventional route of leaving school and going straight into the workplace environment, Eleni has experienced opportunities which most people her age wouldn't have. She also manages her degree studying Quantity Surveying and Commercial Management part-time at Nottingham Trent University alongside assisting the CS2 Quantity Surveying team with projects nationwide. As a young female professional in an industry that has been notoriously male dominated, Eleni has proven her capabilities whilst increasing her maturity and independence.
Since joining the team as an 18-year old school leaver, Eleni has been launched into working with teams of contractors, clients and other CS2 team members to achieve, often tight, targets and deadlines. She has been involved in a variety of projects where she has proven this skill.  Learning from CS2 experts, with over 40 years industry experience, examples of schemes Eleni has assisted with include a food factory refurbishment project in Warrington and the construction of 4 semi-detached houses in Watford. CS2 provided full Quantity Surveying services to the clients, comprising of pre-contract services such as procurement advice, measurement and preparation and issue of Tender Documents and post contract services such as Contract Document preparation, Valuations, Final Account and Loss & Expense. During these projects, Eleni as part of the team helped to advise and direct contractors and clients, some of which were more than 20 years senior to Eleni. Her confidence and maturity shone through in every instance, this has only grown as Eleni's knowledge of the industry and workplace has increased.
With two years' worth of studies and experience shadowing some of CS2's most specialist Surveyors, Eleni's aims for this year is to now conduct and complete a project on her own. Currently she is working independently on a project for the University of Northampton's Student Hub Building. This is a project she has worked on alongside the Senior Quantity Surveying team and now manages on her own. The project is due to be completed in July 2018.
Over the past three years, Eleni has come on leaps and bounds in both her knowledge and confidence. Aged only 21, she now solo manages projects in a variety of sectors and deals directly with industry experts, across the country. Amongst Eleni's portfolio of projects, she has also achieved a fantastic 2:1 result in her university studies so far. The additional responsibilities that Eleni has managed alongside her degree makes this accomplishment even greater.
As a young female professional, Eleni has gained some of most valuable experience in an industry than is dominated by a male demographic and is a trail-blazer for young women within the construction industry.
Make sure to follow CS2 on Social Media to find out all about Eleni's nomination and how you can vote for her in the 2018 Northamptonshire Business Awards!