By Eve Hesketh
July 25, 2019
1,152 views
Promotions, recruits, Staff, update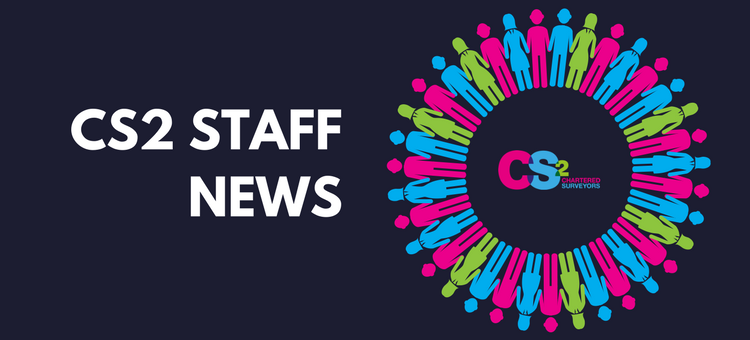 With a new expanded team nationwide, CS2 now consist of 90+ property experts, all working together to deliver industry leading services to our worldwide portfolio of clients. Not only have we welcomed several new members of staff, we have also been celebrating various promotions across the company.
London – With the team rapidly growing in line with expansion plans, in the last few months the CS2 London Office have been joined by Building Surveyors Kishan Bhudia and Shangkeeth Srikumar and Senior Building Surveyor Nigel Evans.  It is also with great pleasure to announce that Building Surveyor Elliott Ramsden has been promoted to Senior Building Surveyor. The office also wished a massive congratulations to Sam Owen who recently passed his APC and was subsequently promoted to a Chartered Building Surveyor.
Northampton – The CS2 Head Office in Northampton have also expanded, with the additions of Associate Director Karl Hofbauer in the QS Department and Trainee Quantity Surveyor Sonny Wilson who will be joining the department at the end of the month. The Building Surveying division within the office also look forward to welcoming Luke Clifford as a Trainee Building Surveyor, who will be joining the team at the end of summer.
Birmingham – Having passed his APC earlier in the year, CS2 Birmingham's Harry Perrey is now a Chartered Building Surveyor. "Harry's achievement is very well deserved, after many months of hard work. He continues to be a fantastic addition to the team and I look forward to seeing him progress as a Chartered Building Surveyor" – Birmingham Office Head, Peter McKenna. The Office have also welcomed secretary, Emilia Karczewska who joined the team earlier in the year.
Manchester – As well as the appointment of a new Office Head on the horizon, the CS2 Manchester team have recently welcomed Building Surveyor Stephan Hamilton and Secretary Sarah Holt.
CS2 are proud to have a diverse team of property experts, and are always looking to grow our teams, nationwide. If you think CS2 is the company for you, get in touch at recruitment@cs2.co.uk or have a look at our vacancies here!