By Rachael Swanston
October 31, 2016
1,032 views
Ghost, Halloween, Manchester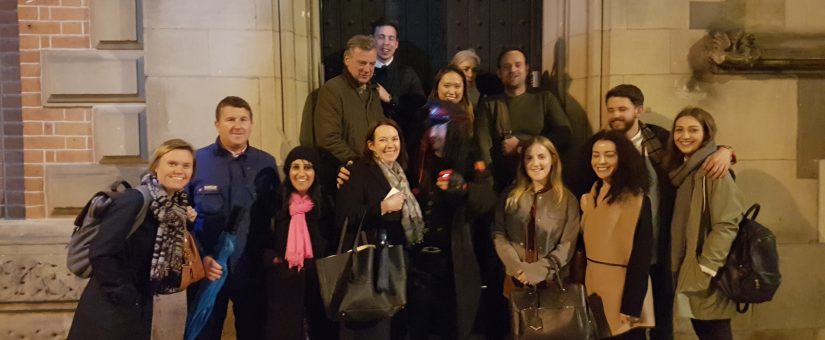 Last week the Manchester team and a brave group of clients took to the streets of the City and were led by Flecky Bennett (of Flecky Bennett Productions) who took them on a ghostly tour of Manchester's most haunted buildings.  The tour started at the Town Hall which is said to be haunted by a Victorian policeman who roams the halls.  The Town Hall was designed by architect Alfred Waterhouse who also designed the Natural History Museum in London, which has been used in many television programmes and films over the years, including Harry Potter, Victor Frankenstein, Peaky Blinders, Sherlock Holmes and The Iron Lady.
From the Town Hall they moved across to the Midland Hotel where they were told a little about its history and the about two of the ghosts that haunt the rooms. The Midland Hotel was a favourite of many noticeable names; it is where Rolls met Royce, where the Beatles were famously turned away from the Restaurant for being dresses inappropriately and was a favourite of Adolf Hitler, who ordered his Luftwaffe to leave the area surrounding the hotel free from bombing due to his desire to use it as a base if he was ever to have invaded England.
Further along on Peter Street, the group passed the Radisson Blu hotel. Flecky told how it used to be the Free Trade Hall and is built on the site of the Peterloo Massacre. Flecky gave a brief description of the Peterloo Massacre which occurred at St Peter's Field in 1819. Over 400 people were injured and 15 died in, what is now thought to be, one of the defining moment of its age.  The group also heard stories of the Albert Hall on Peter Street which was built as a Methodist Central Hall in 1910. In the 1990's the lower two floors were converted into a nightclub called Brannigans which closed in 2011. The Reverend Samuel Collier preached in the church against the dangers of alcohol back in 1910, and has spent the following decades after his death haunting the nightclub, with tales of strange noises, cold spots and smashed glasses as well as reports of bar staff feeling a presence trying to push them down stairs!
The tour ended at Cheetham's School of Music. The school is built upon the site of Manchester Castle, the centre of which Medieval Manchester grew around. Here the group heard their final ghost story of the evening; a ghoulish fox who got into the courtyard and chased after children. It was trapped in a well in the middle of the grounds and can still be seen there today – it's eyes gleaming through the darkness. This was followed by Flecky revealing himself to be the devil in disguise and disappearing as he came – with clock chimes from Manchester Cathedral.
A great night was had by all – another Flecky Bennett ghost walk success!