By Eve Hesketh
October 16, 2019
314 views
fit out, Office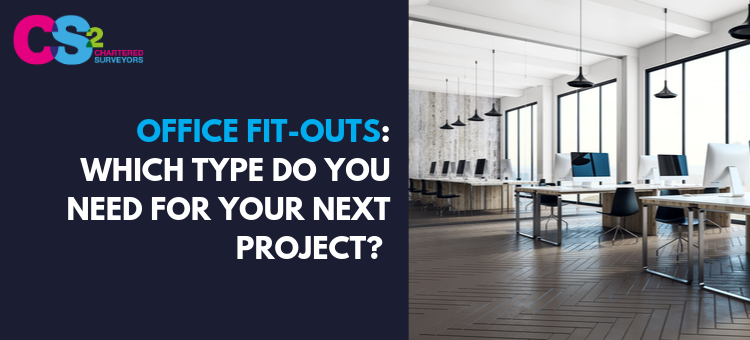 No two businesses are the same; offices often need to accommodate specific occupier needs, such as the ever-evolving use of technology and the changes in work patterns. At CS2, our specialist commercial teams will work in partnership with your stakeholders to identify your business needs and design a solution tailored to your strategy and integrated throughout the life-cycle of the property.
Here's a guide to understanding the main types of office fit-outs used in the UK Market…
Shell and Core fit-out
This refers to the core skeleton of a property's interior space and is often how the building is handed over by developers. Although a property may be finished externally, the inside the office space is just a shell; containing only concrete floors and walls, and no lighting or facilities. Despite individual offices being bare, shared tenant common areas, such as lifts, toilets and reception areas, will be complete ready for incoming tenants.
Category A (Cat A) Fit-out
Cat A Fit-Outs describe a space that has been finished to a generic open-plan layout by landlords or owners. This provides a blank canvas for a tenant to personalise with their Cat B fit-out. A Cat-A Fit Out typically includes:
• Raised access floors
• Suspended ceilings
• Basic mechanical and electrical services including lighting
• Fire detection services and smoke alarms
• Heating, cooling and ventilation
• Basic internal finishes
Category B (Cat B) Fit-out
A Cat B fit-out is then turning the original blank canvas into a bespoke workspace, tailored to the incoming tenant. This would typically include:
• Fully-fitted kitchens and non-communal office amenities
• Partitioning; including meeting rooms, offices and breakout spaces
• Workstations and furniture
• Alterations to the air-conditioning and power points
• IT installation and infrastructure
• Design and brand detailing
As experts within the sector, our project management and space planning consultants have wide ranging experience in delivering fit-outs for building owners, occupiers and developers. We are passionate about working with our clients to deliver projects which meet your requirements. Using our commercial expertise to ensure the smoothest process, achieving fit-outs on time and within budget. Contact us here.