By Eve Hesketh
June 15, 2018
652 views
announcement, energy, environment, esos, mees, news, planning, recruitment, services, Sustainability, team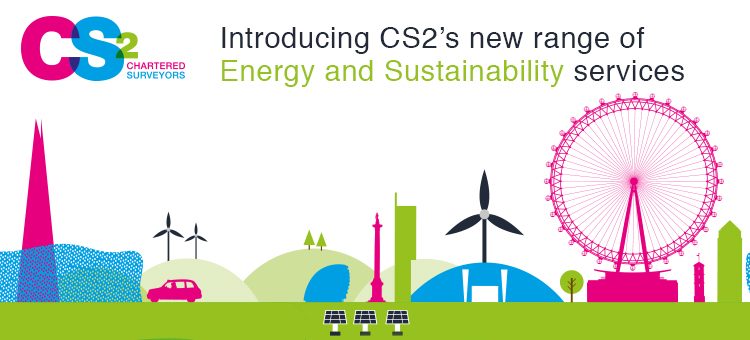 At CS2, we are excited to introduce our extensive new range of Energy and Sustainability services. With the recruitment of Energy and Sustainability consultant James Cutter, we are looking forward to helping clients to meet increasing environmental and energy legislation and driving energy efficient solutions that create sustainable environments and lower carbon footprints for our client's property portfolio.
Our Energy and Sustainability team look to provide measured advice to clients on a range of energy issues, with an ability to view the energy utilisation across a portfolio. This allows focused plans which consist of quick low-cost wins, as well as cross departmental plans to improve the overall sustainability for your business. With multi-sector experience, our team will look to gain board level buy-in to energy projects and create an overall CO2 benchmark from which to drive down carbon emissions, resulting in cost savings. CS2 can aid the business case for energy projects and enhance these by evaluating funding options to generate a positive return on investment. With over 20 years worth of knowledge, CS2 can assist your business to create and implement plans to improve your overall energy performance, whilst cutting costs and enhancing the sustainability of your property portfolio.
ON AVERAGE CS2'S ENERGY AND SUSTAINABILITY EXPERTS CAN SAVE YOU 20% ON YOUR MONTHLY ENERGY BILLS
Sustainability within the built environment is quickly becoming a standard not a goal, with investor's increasing focus on greener investments and tenant's prioritisation of health and wellbeing of staff, property owners are under increasing pressure to deliver sustainable environments. CS2 aim to guide landlords and investors through the sustainability field, from building conception all the way through to holistic portfolio management.
Why CS2?
Our Energy and Sustainability Consultant, James Cutter, has a track record of identifying areas of significant consumption, advising on how to improve and delivering improvement measures. Whilst James has extensive experience in managing energy efficiency programmes with large portfolios of property, he also advises small to medium sized businesses. Through obtaining an impartial and accurate Feasibility Report these businesses can focus investment and achieve great wins and long term savings. James' expertise and position as a lead assessor also allows him to advise on the Energy Saving Opportunity Scheme (ESOS), BREEAM 'In-Use', Energy Audits to ISO 50002 and
the Minimum Energy Efficiency Standards (MEES) regulations, as well as other compliance reports. This is why CS2 are thrilled to have James on board to deliver a range of energy and sustainability services in the following areas:
• SUSTAINABLE PLANNING
• ECO TECHNOLOGY
• Renewables
• Energy Efficiency
• COMPLIANCE
• EPC and MEES
• ESOS
• Environmental Issues
• IMPROVING THE BUILT ENVIRONMENT
• LOWERING CO2 EMISSIONS
To find out how you and your business can save money through Energy and Sustainability plans, get in touch with James our Sustainability Consultant on 07920 843 259 or jcutter@cs2.co.uk