By David Jay
September 17, 2018
336 views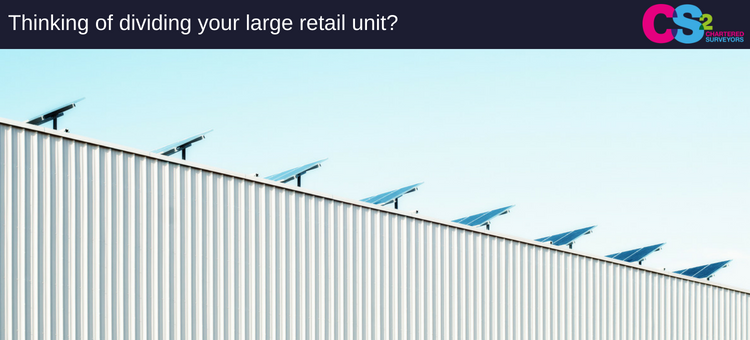 The CS2 team have noticed a growing trend within our retail client base of splitting large retail units into smaller units to let. We are working with property owners on numerous properties to take an active approach to their assets in order to create value and meet the changing demands of their lettings market.
Why are tenants requiring smaller units?
The growing prevalence of e-commerce is leading brands to require a physical brand presence within out-of -town developments and the high street, but on a much smaller scale than previously required. This trend can also be seen within the supermarket sector where the age of the super shed is coming to an end. The change in consumer buying behaviour has led to a significant change in the nature of footfall. E.g. Consumers buying online and wishing to shop at small local stores for top up shops – hence the rapid increase in the convenience store sector from all four major supermarket brands.
Retailers continue to be drawn to less expensive space that consistently trades well in the right locations, especially those within larger destinations with both a retail and leisure offer. i.e a smaller unit in the right location is preferable to many brands when seeking to let a retail unit.
Free parking and convenience to the consumer makes out of-town developments attractive to tenants. This is compounded by the ability to rent smaller and more cost effective units
What are the benefits to the landlord of splitting retail units?
Increased rental yield and value of assets
Increase in tenants who will be able to afford the rent
Demonstration of flexibility in understanding and responding proactively to the needs of the market
Considerations from a landlord perspective when splitting retail units:
Local councils take different views on planning. For example, restraints may be in place due to council trying to protect 'the high street'. It is important that retailers liaise with local planning authorities in a constructive way to ensure that gaining planning consent is achievable.
Restrictions exist on use of/size of mezzanine floors and must be fully considered when planning to split a unit.
Existing structural supports, layouts and amenity blocks may restrict proposed new layouts. It is advisable for retailers to undertake measured surveys and produce feasibility studies with design proposals that work with the existing structure and provide alternative entrances and amenity solutions.
The splitting of the M&E components of a unit is often the most complex element to splitting a retail unit, with existing services needing to be split or be replaced wholesale. Removal of services impacts on the fabric of the building and therefore needs to kept at a minimum.
New entrances could require planning permission and will impact on the aesthetics of the store and retail park as a whole. Retailers are advised to consider a variety of design proposals in line with current building regulations, ensuring requirements of the Equality Act 2010. Design proposals should also consider vehicular access, both for customers and external loading bays.
Contact us
For further information in regards to re-developing retail units contact David Jay.