By Eve Hesketh
September 19, 2019
566 views
Business, energy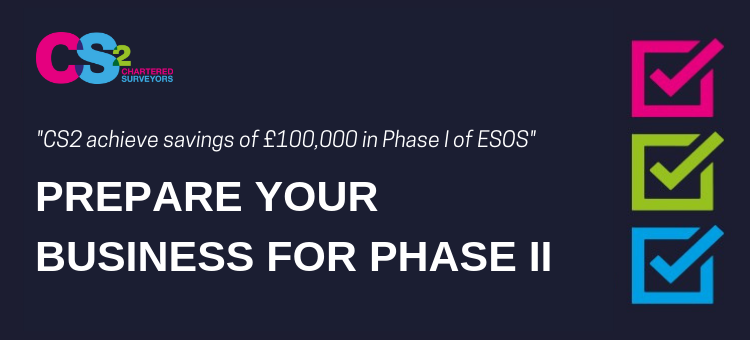 ESOS (Energy Saving Opportunity Scheme) effectively means that Large Entities must go through an Energy Audit process across their Buildings, over their Transport and through their manufacturing Processes.
In 2015 we saw the first phase of the Energy Savings Opportunity Scheme (ESOS) come into force, now we are entering the second phase, and the deadline to register compliance with the Environment Agency (EA) is the 5th of December 2019!
6,500 Large Entities of a predicted 10,000 participated in ESOS Phase I with a similar amount expected in Phase II. Does your business qualify?

CASE STUDY
"CS2 save client's time and money, whilst ensuring 100% compliance, with our in-house ESOS Lead Assessor"
Working with a multi-national heavy industry tools manufacturer CS2 identified low cost energy savings of £100,000.00. Over the course of time between Phase I and Phase II we ensured this cost reduction was achieved.
All Large Entities must do three things by the 5th of December 2019:
1. Measure and Benchmark the energy consumed in the organisation,
2. Undertake Energy Audits over their Buildings, Transport and Processes,
3. Register compliance with the Environment Agency.
If these steps are not all taken organisations risk fines circa £50,000, however following the first stage the EA opted for a policy of encouragement to comply rather than instant fines, this soft touch approach and time extensions helped many organisations comply. At the end of the process enforcement notices were still issued, along with a comprehensive auditing process.
With the help of CS2's Energy and Sustainability team you can establish true energy costs, CO2 emissions and reduce both! CS2 will even safeguard your business from fines of up to £50,000.00.
WHY CS2?
• CS2 unveiled millions in cost saving opportunities during Phase I
• Experts in Buildings, Transport and Processes
• Light Touch to Total Energy Audit approaches, tailored to suit your business
• Project Management of any Energy Saving Measures
• Funding Options Evaluated
• Life Cycle Cost Analysis of the Top Saving Energy Solutions
• Board level feedback sessions
• Dedicated 1:1 Project Lead Assessor
• Future Eco Technology Evaluation
• Energy Audits to ISO 50002
If you think you may qualify or are unsure of how to prepare for ESOS Phase II, get in touch with our Energy and Sustainability Expert, James Cutter!