By Rachael Swanston
May 23, 2016
462 views
Awards, Manchester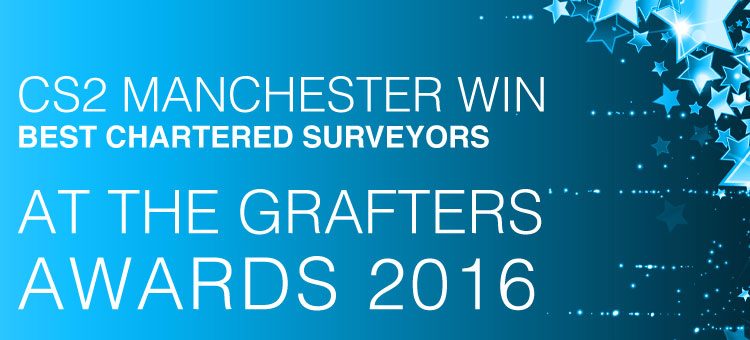 CS2 has been awarded 'Best Chartered Surveyors' at this year's Grafters Awards for the second consecutive year. Voted for by the public and industry professionals, the awards recognise the companies that are leading the way in the construction industry in the North West.
CS2 won the award by demonstrating its long term commitment and contribution to the industry through its quality of service to clients and approach to translating and solving complex property surveying problems.
Ben Walker, Director at CS2 and head of the Manchester office said: "The construction industry in the North West is experiencing huge growth and we're pleased to be part of this. To be recognised for our expertise, quality and client service and as champions of the industry is a great accolade and is testament to the team's hard work and dedication. To be awarded Best Chartered Surveyor for the second year in a row is great recognition."
CS2 provides a range of core building surveying services that help maximise the value of a built asset or investment to clients across the region. With its North West office located in Manchester City Centre, CS2 is working with clients to provide value across the retail, industrial and logistics, offices, residential, education, student accommodation, automotive and roadside sectors.
The Awards are organised by Grafters North West, an organisation solely dedicated to the North West Construction Industry. The organisation holds regular industry events across the region throughout the year – CS2 regularly attends and hopes to see you there.