By Rachael Swanston
February 19, 2018
690 views
Birmingham, comedy, Realis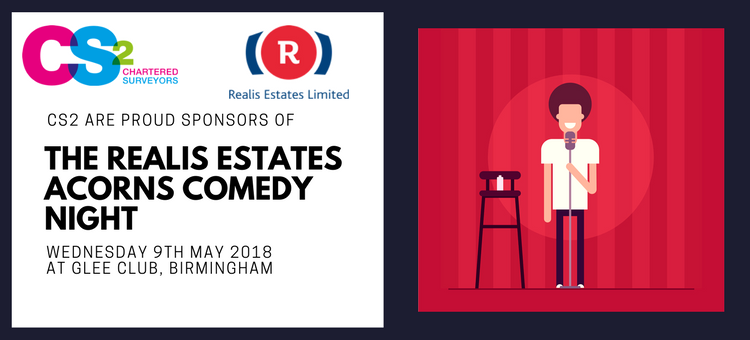 CS2 are delighted to announce that we are now sponsors of Realis Estate's Comedy Night, which will be held on Wednesday 9th May.  In its' fifth year we are certain that, as always, it will be another fantastic evening of tasty food and belly-laughs! The Glee Club, located in the Chinese Quarter of Birmingham, will be hosting the comedy night, as it has done for the past four years. Comedians aren't confirmed yet, so we're looking forward to notification of who will be performing on the night!
The event, which is usually attended by over 200 people from the property world, raises a great amount of money for charity. In the past four years, guests have raised over £750,000 for Acorns Children's Hospice, and this year we are hoping to top up that figure even more.
Acorns Children's Charity provides care & support to life limited & life threatened children & their families. Acorns cared for 865 children and supported 1,088 families, including those who are bereaved across Birmingham, Coventry & Warwickshire, Walsall, Sandwell, Dudley, Wolverhampton, Worcestershire, Herefordshire, Gloucestershire, Staffordshire and Shropshire regions.
CS2 are looking forward this opportunity to support Acorns Children's Hospice and the life changing work they do.