By Eve Hesketh
August 21, 2019
727 views
Charity, Fundraising, guide dogs, guide dogs uk, team building, volunteering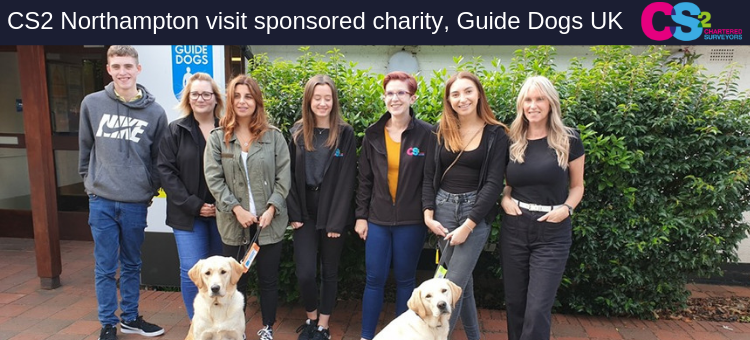 Earlier this week, the CS2 Northampton team were thrilled to be invited to our sponsored charity, Guide Dogs UK's Training Centre in Leamington Spa.
The Guide Dogs Training School at Leamington Spa started in 1941 and today trains 220 dogs a year. Each aspiring Guide Dog has a designated trainer at the centre and is taught all the important skills they need before starting their journey as a life-changing dog.
During our visit, the team were introduced to a variety of dogs at different stages in their Guide Dog training. We had a tour of all the facilities within the centre; including the on-site charity shops, puppy play areas, indoor activity areas and more. Some of the team were given the opportunity to get only an insight into how life-changing these dogs really are, by partaking in a blindfolded walk with a trained Guide Dog.
This was a thoroughly insightful and enjoyable experience, helping us to really understand how our fundraising can make a difference. In 2019, CS2 Northampton made a pledge to sponsor a puppy for two years. We made the decision to name the puppy in honour of CS2 Director Vince Owen, who sadly passed away last year. Vinnie, our puppy was born the day after our visit to the centre and we can't wait to meet him!
To find out more information about how you can get involved in this incredible charity, visit their website here.