By Eve Hesketh
March 8, 2018
665 views
CS2, Day, global, international, news, Progress, Womens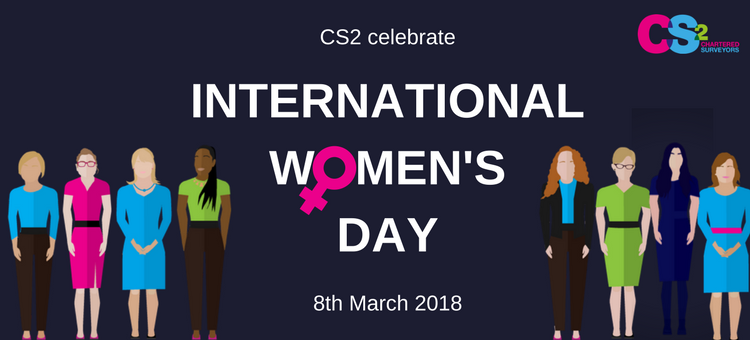 Today is International Women's Day. This is a global day initiated to celebrate the social, economic, cultural and political achievements of women. To commemorate the day, we thought we would share some of the successful achievements of women within CS2, and their thoughts on working in the construction industry.
Agata Mrozowska, Graduate Quantity Surveyor. Agata first joined CS2 in January last year, as a Trainee Quantity Surveyor. Now recently qualified, Agata has completed an MSc. in Quantity Surveying at Sheffield Hallam University. To add to her achievements, Agata has an M.A. in Modern Languages from the University of Bristol, a Certificate in English Teaching to Adults from Cambridge and a B.A. in English from her home country of Poland! As if all of these qualifications weren't enough, Agata has just embarked on a MSc at The University of West England in Building Information Modelling in Design Construction and Operations – is there anything she can't do?
Alison Heywood, Project Team Co-Ordinator. Alison has project managed a variety of refurbishments & fit-outs within a multitude of sectors and manages expenditure, project co-ordinates services, suppliers and contractors for Dixons Carphone Warehouse. With 14 years' experience within the property and construction industry, Alison is currently undertaking study for a degree in Building Surveying. Alongside her educational study, Alison provides extremely valuable assistance amongst the CS2 Northampton Building Surveying team.
Amanda Lewis, Quantity Surveyor. Amanda joined CS2 in 2009, initially as a secretary to one of the Equity Directors, although soon after joined the Cost Consultancy Team located in the Northampton Head Office.  During the early years within the Cost Consultancy Team, Amanda completed a variety of technical tasks and decided to take up the challenge of training to be a Quantity Surveyor. Having successfully completing a two-year diploma in February 2016, Amanda gained her AssocRICS membership and is currently in her final year of an honours degree in Quantity Surveying. With 5 years' experience, Amanda is now an established member of the CS2 Cost Consultancy Team, providing services with Pre and Post Contract work, Bank Monitoring and Reinstatement Cost Assessments.
Elaine Brocklehurst, Associate Director. Elaine works from our Manchester office and has over 15 years within the Construction Industry.  Elaine works closely with clients, to provide expert Dilapidations and Acquisition services. Elaine not only works to improve diversity within CS2, but she has been historically involved with the Women in Property, where she has built connections with many other female professionals within the industry.
Eleni Neophitou, Trainee Quantity Surveyor. Eleni joined the company in September 2015 after completing her A-Levels and is currently training to be a Quantity Surveyor, whilst in her third year of study at Nottingham Trent University. Since joining CS2, Eleni has progressed from shadowing members of the QS team, to being responsible for producing cost plans and financial reports. As one of the youngest of our professional women at CS2, Eleni is a trail blazer for young women seeking careers in the property industry.
Louise Shivers, CAD Technician. Louise has over 18 years' experience in the Construction industry, working in the design and AutoCAD sectors. Louise chose this career path following a comment her dad made when he said a woman would never make it in the construction industry, and she loves a challenge!
Sophia Griffiths, Marketing Manager. Sophia is the Marketing Manager here at CS2 and has over 8 years' experience within this sector. Sophia's experience includes working within retail and the education industry. She joined the Marketing Team in September 2017 and has since been involved with every aspect of marketing and business development, for all of the regional offices. Sophia has a management degree and is currently working towards a business and marketing degree.
Stephanie Le Couteur, Associate Director. Steph has over 10 years' experience within the commercial property industry and is an Associate Director, based in our Birmingham Office. Steph specialises in project management and contract administration services for construction and fit-out projects in the UK, across many sectors. Steph is Key Client Manager for some of the biggest names in CS2's portfolio and remains one of the most influential players within the company.
As well as these fantastic women mentioned above, CS2 have a team of nearly 30 women who work across the nation to help CS2 to deliver industry leading services on every project. #PressForProgress #IWD2018