By Eve Hesketh
August 3, 2021
451 views
Acquisition, clients, CS2, RSK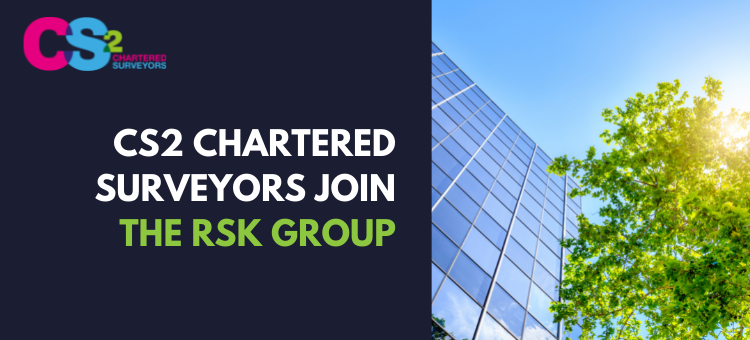 Leading integrated environmental, engineering and technical services business, RSK Group Ltd is proud to announce the acquisition of chartered surveyors CS2.
CS2 is one of the UK's most reputable construction consultancies, offering a fully integrated service covering building surveying, insurance surveying, cost consultancy, project management, construction consultancy, dilapidations, energy and sustainability.
Operating from seven UK offices, CS2 has created an infrastructure to provide local service and knowledge to its national client base. The offices service their regional business communities, while providing a local hub for the requirements of CS2's wider national blue-chip client base.
The acquisition will see CS2 continuing to deliver innovative and customer-focused surveying and consultancy services to its clients. CS2's existing management team, headed by Managing Director Andrew Mather, will continue to lead the business, which will become part of RSK's Geosciences and Engineering division. The entire workforce and brand will be retained as RSK and CS2 plan to grow the business in the years to come.
RSK Chief Executive Officer and founder Alan Ryder said, "We are extremely pleased to welcome CS2 into the group as they further our aim of providing end-to-end solutions for our clients. A company with a spirit of passion, partnership and performance is absolutely one that RSK can get behind. Our shared ethos will lead to fantastic opportunities that we look forward to exploring."
"CS2 is delighted to be on board and to be part of RSK's strategic investment programme," Andrew Mather added. "RSK's technical excellence across a huge range of services and sectors will be of significant interest and benefit to our clients. We are culturally and philosophically aligned and we shall continue to provide fantastic client service, delivered by technical experts."
RSK is actively investing in the development of new businesses and bolt-on acquisitions, as well as equipment and facilities, to provide full-service solutions to a wide, international client base.
Notes for editors
1. RSK acquisitions
In the financial year 2016/2017, RSK acquired three businesses: ADAS, Dynamic Sampling and JB Site Investigations.
In the financial year 2017/2018, RSK acquired seven businesses: Acies, KMGP, Ian Farmer Associates, Cole Jarman, Up and Under Group, CJ Associates and RSKW.
In the financial year 2018/2019, RSK completed 12 acquisitions: Central Alliance, Non Destructive Testing Services, Copeland Wedge Associates, Twig, CAN, PB Drilling, bts Group, the tbf Contracting businesses, Pellings, Dr. Tillmanns & Partner, Headland Archaeology and Drilling Supplies & Hire Services.
In the financial year 2019/2020, RSK acquired 11 businesses: Consents Solutions, Biocensus, Adverbo, RAW Technology, Geocore Site Investigations, Ecologia Environmental Solutions, ATP, Silcock Leedham Group, Salix, Morrison Falklands and Nicholas O'Dwyer.
In the financial year 2020/2021, RSK acquired: Ground Heat, PA Group, RoC Consulting, WRc, Cognica, Boden + Wasser, Amphos 21, Pharos Generator Services, Pharos Field Engineering Services, Binnies (including Black & Veatch Limited, Black & Veatch Hong Kong Limited and Black & Veatch (SEA) Pte Limited in Singapore), CAS, EDP, CR Civil Engineering and Enviresearch.
In the current financial year, RSK has, so far, acquired 11 businesses: The Scan Station, RSK Orbital, SkyVision International, Smith + Kennedy Architects, Stephenson Halliday, QSI, Waldrams, Althoff & Lang GbR, Minerex, TechnikGS and CS2.
2. About RSK RSK (www.rskgroup.com) is the UK's leading integrated environmental, engineering and technical services provider. The business has grown organically and through strategic acquisition since it was established in 1989. Today, the RSK group is made up of more than 100 companies that are aligned to deliver end-to-end solutions to help organisations to achieve their goals in a sustainable manner. With its head office in Helsby, Cheshire, UK, RSK employs over 6000 specialists worldwide and is known for providing practical solutions to global challenges. RSK was ranked the second largest UK environmental consultancy by Environment Analyst in its 2020 Market Assessment Report and is placed in the 2020 Sunday Times PwC Top Track 250, a ranking of Britain's leading mid-market private companies.
RSK has a diverse client base but mainly services key accounts for clients in the energy, water, property, manufacturing, government and transport sectors.
The company is certified to the ISO 9001, ISO 14001 and ISO 45001 international standards for quality, environmental management and health and safety management.
For more information, please contact 
Carmella De Lucia
Senior Press Officer
cdelucia@rsk.co.uk
If you have any further questions relating to this news or would like to speak to your local CS2 office about how this may affect you as a CS2 client, please contact us here.