By Eve Hesketh
August 11, 2021
195 views
activities, Charity, CSR, Events, Fundraising, local, volunteering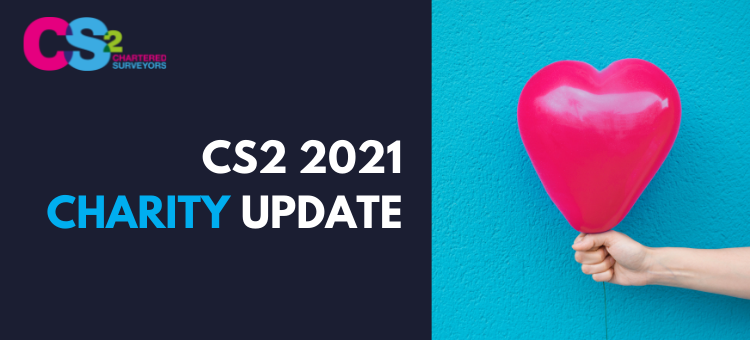 Despite being a busy year for CS2, we continue with one of our key missions which is to raise as much money as possible for charity, as well as donating our time to important causes and local organisations.
As we are now eight months into 2021, here's an update of all the ways which we have given back so far…
Regional Office Charities
Every year, each of our seven regional offices selects a charity that they sponsor over a period of 12-months. Offices all conduct various events and activities to raise as much money as possible for their chosen charity.
In the Northampton Office, the team selected Leukaemia UK as their charity. They do this in memory of CS2's founding Director Mike Gregory who sadly passed in December. As part of the team's fundraising, they conducted a sweepstake for the Euros 2020/21. This was a great way to raise some money, whilst adding a competitive element to all the office's football fans!
Zoe's 250,000 steps for Leukaemia UK
CS2 Bristol's very own Zoe Butler took on a virtual walking challenge of 250,000 steps in July! With busy work and family life, having two young girls, Zoe did an incredible job, raising money for an amazing charity whilst keeping fit and having fun. Well done Zoe! You can read her full story and donate, here: https://www.facebook.com/donate/977057196377124/
Eve's Peak District Hike for Cancer Research UK
From the CS2 Marketing team, Eve Hesketh will be taking part in a 25.8m hike around the peak district on the 2nd of October. She does this in solidarity with close family members who have both undergone cancer treatment in the last 10 months. This is a huge challenge, all for an amazing charity that has helped so many people across the world. Read Eve's full story and donate here: https://fundraise.cancerresearchuk.org/page/eves-giving-page-110
We plan to continue our efforts by volunteering with worthy organisations within our local communities and conduct lots more fundraising activities for our sponsored charities.
If you know of any organisations that would benefit from some volunteering, please get in touch with our Marketing Co-ordinator Eve Hesketh at ehesketh@cs2.co.uk.