By Rachael Swanston
March 5, 2019
669 views
apprentice, apprenticeship, spotlight, Staff, surveying, surveyor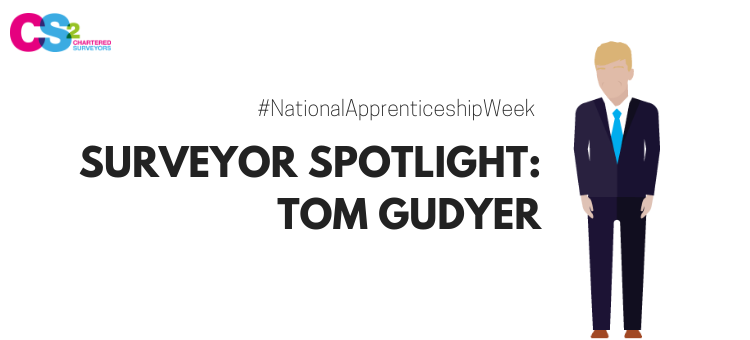 CS2 are fully supportive of young professionals, and provide a route to becoming fully qualified in whichever field you choose, throughout the whole company. You will be working alongside experienced members of staff and assisted every step of the way.
Tom Gudyer is now half way through his second year of studying, here's his story;
Tom first joined CS2 at the end of August 2017 after completing his A-Levels and gaining a place on the part time course at Nottingham Trent University. Tom completed his first year with a High 2:1. During the first year, the university ran an apprenticeship scheme, allowing Tom to complete his APC within the 4th and 5th years of Uni, with the aim to take his APC in the Autumn of 2022.
Since joining CS2 Tom has been responsible for his own project, a warehouse extension in Wellingborough to the value of £500K. In this project he was responsible from procurement all the way through to managing variations and completing the final account with the contractor. Overall, even with numerous variations the project was delivered on time and on budget by CS2.
Tom is currently assisting Simon Skinner with delivering a £5million Maths Facility at St Albans School, which includes a rifle range within the basement and full black glazed elevation with mathematic formulas printed on. The works are currently on budget and ahead of programme with the concrete frame being near to completion, with Practical Completion scheduled for December 2019. Within this project he is responsible for producing the Project Manager reports and completing Valuations on site.
In addition to Tom, we have a number of other young members of staff doing either apprenticeships or trainee placements with day release at college or university. If you are interested in finding out more, please get in touch with us on mbyrne@cs2.co.uk