By Eve Hesketh
November 15, 2018
1,125 views
appoint, Birmingham, Bristol, London, Manchester, Milton Keynes, Nationwide, Northampton, recruit, recruitment, Staff, team, vacancies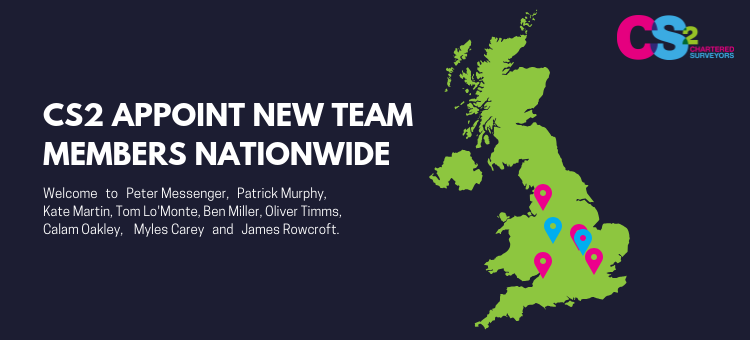 Over the last six months, the CS2 Offices have been busy expanding their teams and welcoming new employees, nationwide. From graduates all the way up to Directors, the CS2 team is growing; and as the year draws to a close, what better time to celebrate our new recruits.
In the past 6 months, our London Office has grown enormously. With the appointment of Office Head, Rob Bradley in the summer, we have now welcomed Patrick Murphy, Peter Messenger and Kate Martin. Patrick Murphy was recently appointed as a Director at CS2 and has nearly 10 years' experience within the commercial property industry. His experience includes the provision of project management and building surveying services to a variety of clients across a full range of sectors and building types. Peter Messenger joins CS2 as a Director; with over 18 years' experience covering all typical building consultancy instructions, Peter has a natural understanding of differing client and stakeholder needs having worked in social, public and commercial sectors as well as client side for private investment portfolios. Peter has strengths in strategic asset enhancement utilising his broad range of experience to develop and maximise the potential of existing assets. Finally, we welcome Kate Martin who has joined the team as a Director. She is a Chartered Building Surveyor with over 15 years experience in the commercial sector, working for both investor/landlord and occupiers. Kate undertakes a broad range of building surveying services with her particular strength in technical due diligence. Kate has worked on a number of European portfolios undertaking acquisition surveys across Germany, France and Czech Republic.
Further north, our Northampton-based Quantity Surveying team has welcomed Associate Director, Tom Lo'Monte who is a dedicated and passionate Chartered Quantity Surveyor with over 10 years' experience in private practice and cost consultancy. Tom's specialist experience in the Industrial, Residential and Commercial sectors gives him a unique advantage in offering Clients and Design-professionals new ways to approach smart project design and buildability.
Our recently expanded Milton Keynes Office has also welcomed new Trainee Building Surveyor Ben Miller. Ben joined the Milton Keynes office earlier this month and is training to be a Building Surveyor. Ben spends four days in the office gaining practical experience and is currently attending Coventry College completing his Building HNC for two years. After this, he will transfer to Coventry University and complete his Building Surveying degree for three years on a part time course.
CS2 Birmingham have recently appointed Oliver Timms as an Associate Director. Oliver is due to start with the office next week. The team have also welcomed Calam Oakley who joins as a Building Surveyor. After recently graduating from Birmingham City University, Calam is currently working towards passing his APC and achieving chartered status.
In Bristol, the team have welcomed Building Surveyor, Myles Carey who has recently graduated from Plymouth University and is currently working towards passing his APC and achieving chartered status. Myles assists with a wide range of instructions including contract administration, preparing schedules of condition and putting together schedules of dilapidation on behalf of the landlord and the tenant. Myles is also experienced in AutoCAD producing floor plans, elevations and details.
Finally, up in Manchester we have welcomed a new team of Quantity Surveyors, as well as Associate Director James Rowcroft who is a chartered Building Surveyor with over 13 years' experience acting on behalf of both property investment funds and for occupier clients. James has expertise within a vast range of sectors and property types including; educational, industrial, commercial, health care and utility properties.
CS2 are thrilled to welcome all of the new additions to our team and look forward to celebrating our 20th birthday next year with a fully established, nationwide team of 90+ property professionals. If you are interested in becoming our next recruit, visit our Vacancies Page.