By Eve Hesketh
December 22, 2017
480 views
Event, new year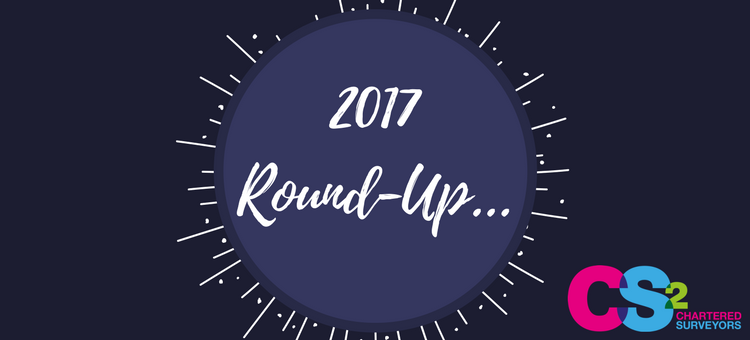 2017 is nearly over, and what a year it was.  In the spirit of the New Year we'd like to take the opportunity to look back on some of our highlights…
Giving Back
Throughout the year we have taken part in numerous charity events.  A great deal of money was raised from sporting events…… we had keen footballers having a kick-around in The Surveyors Cup 2017, runners smashing the 10K charity runs for LandAid and an incredibly fit team taking part in the South West Property Sportive in Bristol.
Sponsorship Opportunities
As well as proudly sponsoring the Property Race Day Train at the world-famous Ascot Racecourse, for the second year running, CS2 also sponsored both of Accessible Retail's biggest events of the year; The Retail Quiz Night and Christmas Lunch. In June we were thrilled to sponsor the North West Regional Construction Awards which took place at the Principal Hotel, Manchester. A few other sponsorship highlights of 2017 include; The Royal Engineers Yacht which took part in the Rolex Fastnet Race and rounding the year off, the Property Managers Association Christmas Lunch!
Events
As always, CS2 did not fail to host some fantastic events. One of our favourites has to be the Bristol Golf Day, with over 40 guests and glorious sunny weather.  The annual day at the Bristol Golf Club was a huge success  and raised a staggering £800 for Children's Hospice South West. We would also like to say a massive thank you to those who attended our End of Year Christmas Drinks in both London and Northampton Venues.  They were both fantastic events, with lots of prosecco and beer consumed.  We hope all who came thoroughly enjoyed it!
Projects
This year CS2 have been involved in many projects, some more unusual than others, like for example, Project Management of the fitting out works for the first Acuitis Optician store in the UK.  Another interesting project was CS2 instructed as Employers Agent on the fire damaged Peel Centre in Wolverhampton. With the use of a drone, we have an aerial video showing how the works progressed!
Awards
In May we were awarded the Special Commendation Award for Best Chartered Surveyors at the North West Grafters Awards, held in Manchester.  This made it the third year running where CS2 came home with an award from the Grafters!  In October, we were delighted to be ranked #21 in the Top 50 Project Managers and #63 in the Top 150 Consultants in Building Magazine 2017.  Winning awards of this nature reiterates that we are constantly striving to be the best at what we do.  Next year we will endeavour to be higher in the rankings!
CS2 continues to grow and 2017 has welcomed 11 new members of staff across the regions.  This makes it easier to service our clients with increased speed and ensure we provide technical excellence whatever the type of instruction.  One big highlight of the year was the relocation of our London office from Cheapside to their spacious new residence in Farringdon Road.
So that's 2017 all wrapped up.  We wish you a Merry Christmas and look forward to working with you again in 2018!