By Eve Hesketh
February 28, 2018
558 views
Cannes, Event, MIPIM, networking, Retail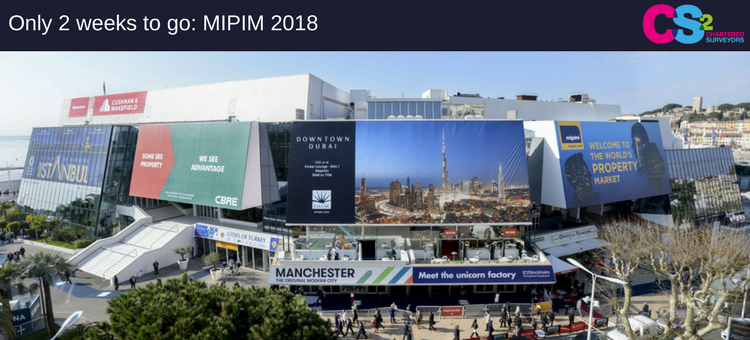 With only two weeks to go until one of the world's largest Premier Real Estate conventions, CS2 are busy finalising the details of our MIPIM schedule. The event gathers some of the most influential players from all sectors of the International Property Industry. It is our seventh year at MIPIM and CS2 are looking forward to meeting with lots of new and familiar faces, over the backdrop of picturesque Cannes.
One of our favourite things about MIPIM is meeting lots of new people and companies, and what better way to do this than on the beautiful beaches in Cannes? We've outlined which events the CS2 team will be attending, throughout their time at MIPIM:
BSD Wine tasting – Tues 13th March @ 3pm: Building Services Design are hosting their inaugural wine tasting event at MIPIM at 1862 Wines and Spirits. This will be an ideal opportunity to network and swirl our wine with an interesting blend of industry figures.
Wardell Armstrong's Craft Beer Tasting Evening – Tues 13th March @ 5pm: Wardell Armstrong are collaborating with the famous Cote d'Azur Colgans Brewery to bring an evening of networking and craft beer tasting to MIPIM. The brewers will be on hand to present guests with a selection of their locally produced artisan beers – we look forward to having a beer and a chat with lots of MIPIMers!
Ramboll Drinks Reception – Tues 13th @ 5pm: Ramboll is hosting a private drinks reception at Ma Nolan's, rubbing elbows with industry peers to discuss how our latest innovations are transforming design, engineering and construction. Twenty representatives from across Ramboll's European Buildings, Environment and Health, Transport and Management Consulting practices will be attending, keen to share ideas and the latest exciting developments.
Artemis Interiors Breakfast – Weds 14th from 10am: Artemis are hosting a breakfast in a reserved area in the Upside Down Café. There will be time to mingle and enjoy breakfast, we look forward to seeing you there.
Conisbee Breakfast– Weds 14th from 8:30am: Conisbee, Consulting Structural Engineers are hosting a breakfast on the beach every morning during MIPIM. We will be there on Wednesday morning at Long Beach Restaurant opposite the JW Marriot Hotel to make new contacts and enjoy breakfast.
Bird and Bird Drinks Reception – Weds 1pm:   MIPIM can be thirsty work so we will be attending the Bird and Bird drinks reception to say hello, enjoy drinks and canapes as well as mingle with other guests.
"The Cronx" Beer on the Beach – Weds 14th @ 4pm: Enjoy a taste of the Cronx and sample a selection of Croydon-produced craft beers on the beach in an informal opportunity to network and meet the Develop Croydon Partners and key players in Croydon's regeneration.
MIPIM Party – Weds 14th @ 9pm: Warwick Estates Property Management is hosting a party for UK-based property professionals from all disciplines at MIPIM in 2018. Join one of the largest events taking place during MIPIM, held at the iconic Cannes property Villa du Parc.
Crowe Clarke Whitehall LLP Breakfast – Thurs from 9:30: Crowe Clarke Whitehall are hosting a breakfast buffet, where you can pop along anytime from 9.30 to make new contacts and enjoy some breakfast. This is taking place at Le Croisette (Ex Mocca) where there will be lots of networking.
CS2 & Bird and Bird Lunch – Thurs 12:30pm: CS2 and Bird and Bird are partnering up to host a beach lunch at MIPIM. This istaking place at La Mandala Plage, Boulevard De La Croisette.
Artemis Roof Terrace Drinks – Thurs from 3pm: Artemis Interiors are hosting a MIPIM drinks event at Raddison Blu. This is a roof terrace dinks event where there will be 'blue sky dining' and 'blue sky thinking' and lots of networking.
Drinks Reception at The Grand Hotel in Cannes – Thurs 15th from 4pm:   Co-hosts Arlington Insurance services, Bircham Dyson Bell, Child Graddon Lewis Architects and Tuckerman Chartered Surveyors are hosting their annual drinks party at the Grand Hotel. This will be our final evening in Cannes and we plan on ending the evening with drinks and canapes and having final chats with the contacts we have made across the four days.
You can also read our blogs all about who from CS2 will be attending and also our Top Tips for MIPIM First-timers. If you still have room in your diary and would like to meet CS2 at MIPIM then please contact sgriffiths@cs2.co.uk.
We're looking forward to seeing you there!