By Eve Hesketh
June 25, 2019
661 views
advise, energy, landlord, planning, Sustainability, Tenant, tool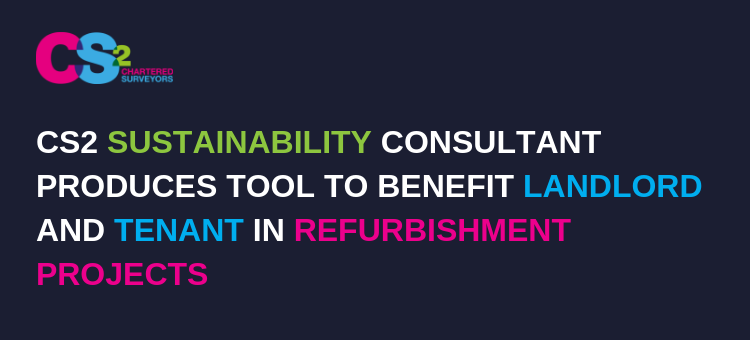 CS2 have been working to integrate Sustainability into all Building Surveying practices, one major step was to develop a tool to monitor and improve the sustainability aspects of each and every client refurbishment project. Shining a light into the degree of sustainability in buildings across a portfolio.
A major inhibitor to implementing BREEAM 'Refurbishment' or using SKA Ratings was not only cost of the extra installations required to meet BRE/RICS standards but a costly assessment procedure. Therefore; CS2's Energy and Sustainability Consultant, James Cutter took the issues analysed by BREEAM and SKA; matched an agreed specification with the client to rate each issue as either Beginner, Advanced or Market Leading. The outcome is a powerful tool which can be used throughout the life-cycle of the building to monitor its level of sustainability.
We have found the tool to be low-cost, flexible and easy to implement portfolio wide.
As investors are increasingly evaluating portfolios based on the environmental and energy performance to make long-term sustainable investments; our in house tool allows Landlords to effectively and clearly demonstrate their current and future plans for becoming Carbon Neutral and supporting the environment.
Tenants with higher turnovers are increasingly having to document their plans to lower emissions, report carbon foot-prints and increase sustainable responsibilities. CS2's Sustainability Tool ensures our Landlords are able to deliver granular information to meet tenant reporting requirements and development plans.
CS2 can now offer this tool to all clients with a drive to become truly Sustainable in Buildings. To find out more please email CS2's Energy and Sustainability Consultant, James Cutter on jcutter@cs2.co.uk.