By Eve Hesketh
March 25, 2020
466 views
employers, news, recruitment, Staff, team, update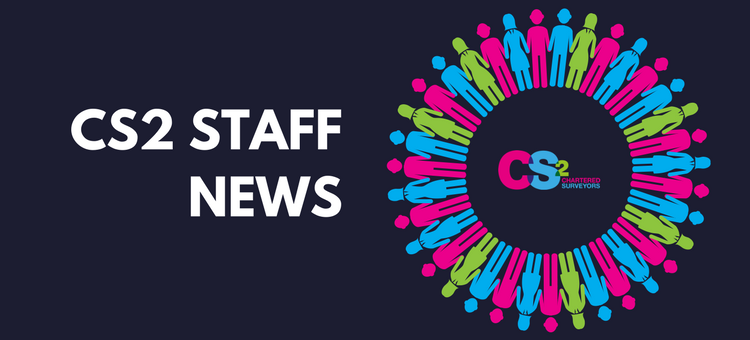 With a new expanded team nationwide, CS2 now consist of 90+ property experts, all working together to deliver industry leading services to our worldwide portfolio of clients. This year so far has been busy for all of our teams who are thrilled about new promotions company-wide and welcoming several new members of staff.
London – Our team down in the capital were sad to say goodbye to Sinead Bruce earlier this month as she leaves for her maternity, however are thrilled that newest recruits Senior Building Surveyor Thomas Heal and Admin Manager Kat Jaques who have both settled into the team nicely.
Northampton – In our head office, there are some big changes happening with Director Alan Edge reducing his hours and changing his role to focus on Business Development and Marketing, over a three-day week. He is also pleased to be handing over the title of Northampton Office Head to CS2 Veteran Mark Edwards. We have also welcomed Jade Renshaw who now heads up our Credit Control (Sales) team, Jade is still in her first few weeks at CS2 but has found her feet perfectly. In addition, our Northampton Quantity Surveyors have welcomed Team Secretary, Lauren Smith who joined CS2 at the end of 2019 and made a fantastic addition to the team.
Bristol – The growing Bristol team welcomed Senior Quantity Surveyor, David Pickup and Trainee Surveyor, Ned Lewis who have been with the company a few months and are now part of the furniture in our South-West office!
Birmingham – Our team in Birmingham were thrilled to welcome lots of new starters throughout 2019 and look forward to welcoming another new face in the office very soon. More information to follow!
Manchester – Our newest recruit to the Manchester Team is Rachel Johnstone who has joined CS2 as our Bid Manager, strengthening the Framework and Bid arm of the company. With a newly refurbished workspace in Blackfriars House, home of CS2 Manchester, this is an exiting time for our North-West team! We will be doing a special feature all about this new communal space being created, so keep your eyes peeled for that.
Edinburgh – Finally, as you may have already heard, we have made a very special appointment north of the border in Edinburgh. To find out who this familiar face might be and to hear all about our newest office, click here!
CS2 are proud to have a diverse team of property experts, and are always looking to grow our teams, nationwide. If you think CS2 is the company for you, get in touch at recruitment@cs2.co.uk or have a look at our vacancies here!