By Rachael Swanston
July 27, 2017
558 views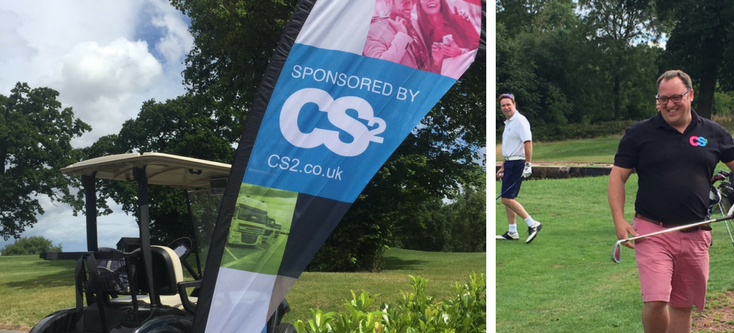 CS2 Bristol Golf Day
On the 20th July, CS2 hosted over 40 guests at our annual golf day at the Bristol Golf club.
After overnight rainfall the clouds cleared to make way for a sunny day whilst the teams were enjoying breakfast and a team briefing.  Before teeing off, we were given an overview by Janey of Children's Hospice South West and the amazing work they do.  This spurred us all on to raise as much money as we could for our charity of the year, with Carolyn and Matt Garwood leading the charity fundraising charge … on a golf buggy!
Our guests attempted the longest drive, nearest the pin, putting competition and all tried to hold on to the yellow ball, for the entire round.  Only Mark Humphries' team managed to hold on to the yellow and deservedly received the prize and plaudits back in the club house.  Dom had a great round and picked up prizes for both the nearest the pin and longest drive – well played Dom!  We also welcomed several non-golfers, who spent the day with the club pro on the driving range and playing the 9 hole Little Bristol course.
As well as prize giving, Mark also chaired a charity auction to raise further funds, with some fantastic prizes, all secured by Carolyn from commercial organizations locally and national, including a £200 Stenna Line voucher, numerous family days out, food vouchers, sports memberships… and a bottle of Gin.
In total, we raised a staggering £800 for Children's Hospice South West.  Thank you to all who helped with the organization and the event on the day.
For more info on Children's Hospice South West, click here